New Daewoo Battery Garden Products!
Daewoo introduces a brand new line of Li-on battery garden equipment, which included lawn mowers, trimmers, chain saw, brush cutter, scarifier, blower, snow thrower and accessories. A distinctive feature of the model range is that all equipment is powered by a universal Li-on battery Daewoo.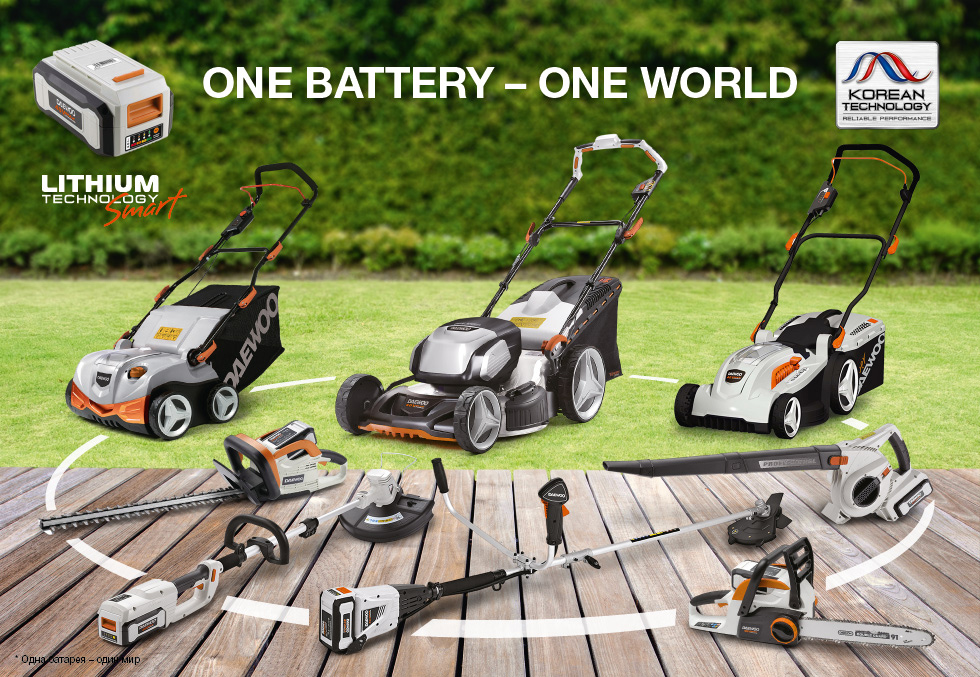 LAWN MOWERS 4040LI DLM, DLM 4340LI, 5140LI DLM, DLM 5580LI
Battery lawn mowers with an eco-engine are characterized by low noise and vibration during operation. All models are equipped with a durable steel blade and a big grass collector. Ergonomic design of lawn mowers allows them to be conveniently and compactly stored.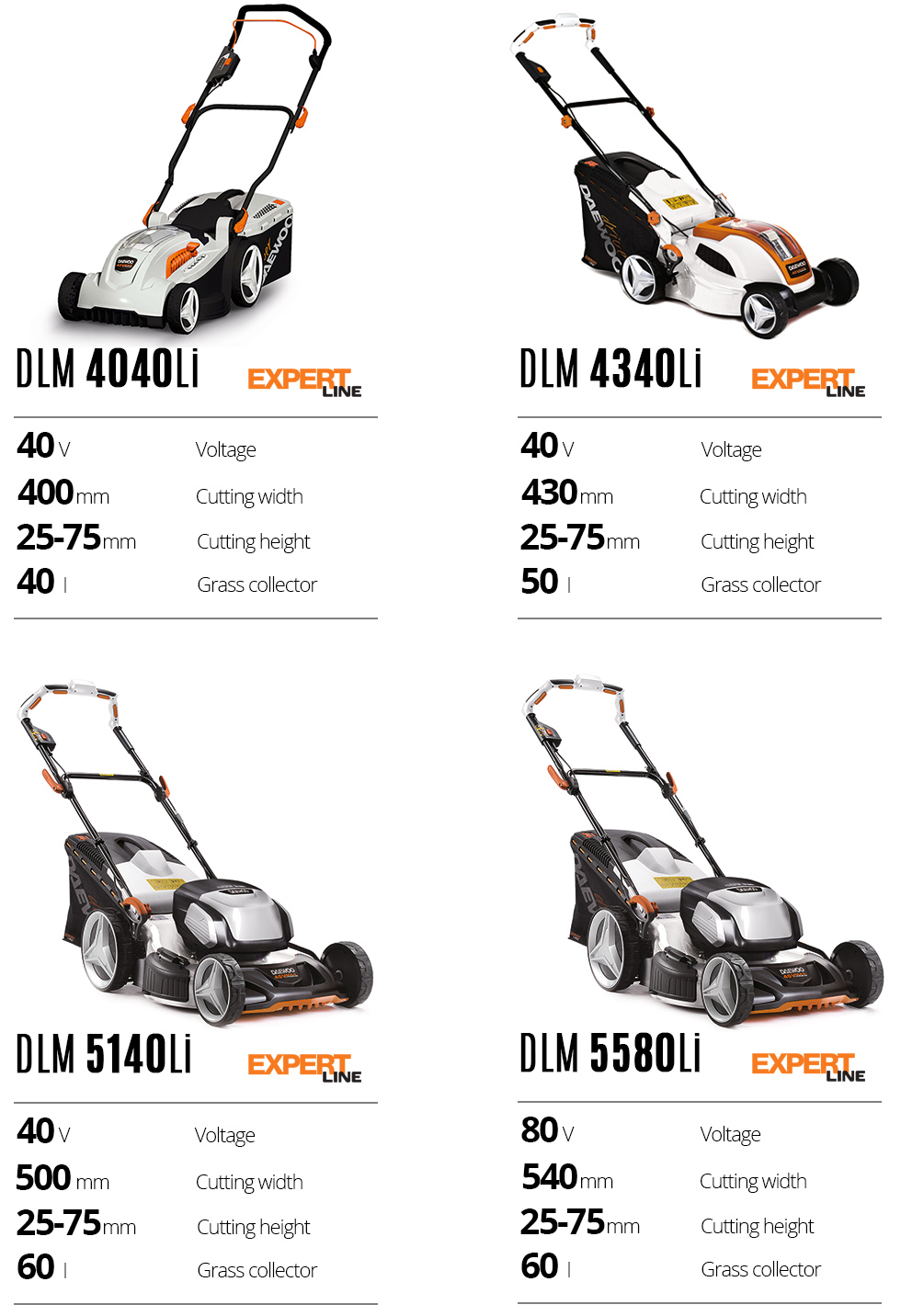 TRIMMERS DATR 2840LI, DABC 3240LI
Daewoo battery trimmers are compact, light and quiet, which allows you to work for a long time without feeling tired. Equipped with low noise and vibration system , comfortable U-shaped handle, a split shaft and protective cover.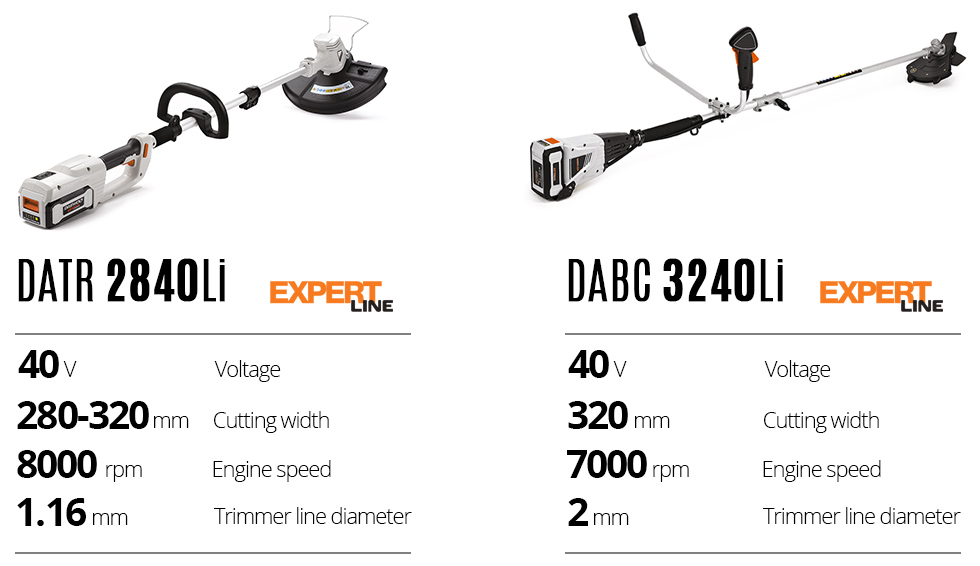 CHAIN SAW DACS 1640LI
Battery chain saw is ideal for both beginners and professionals. SDS chain tooless system allows you to prepare the saw for work in a few minutes. Metal toothed stop, anti-vibration system and chain brake make the work comfortable and safe.

BRUSHCUTTER DAHT 5540LI
Light and silent brush cutter with a sharp two-sided blade is an indispensable garden assistant. Thanks to the optimal balancing and operator protection system, you can comfortably and safely cut down the branches of trees and shrubs.

SCARIFIER DSC 3840LI
Battery scarifier performs 3 functions. Like an aerator, it oxygenates the soil. Like a scarifier, combs the moss and collects the leaves. As a grass collector, holds 55 liters of leaves, litter and grass. It has two shafts with 16 knives and needles.


BLOWER DABL 6040LI
Daewoo battery blower operates in two modes – as a blower and as a vacuum cleaner. For convenient and comfortable operation, it is equipped with a garbage bag, noise reduction system and convenient electronic speed adjustment.

SNOWBLOWER DAST 5040LI
Daewoo snowblower with soft rubber screws on the steel frame carefully removes snow from any surface without damaging it. Equipped with a bright LED headlight for comfortable work in the dark. Thanks to the Eco engine, snowblower is very easy to maintain.

BATTERY AND CHARGER DACH 2040LI, 2540LI DEBT, DEBT 4040LI
Battery with charge level indication presented 2 models of different capacities - 2.5Ah and 4Ah. Both batteries are suitable for the entire battery technology Daewoo. Universal battery charger with charge level indicator is suitable for both batteries. Batteries and charger are sold separately.

Learn more about Battery Products Daewoo